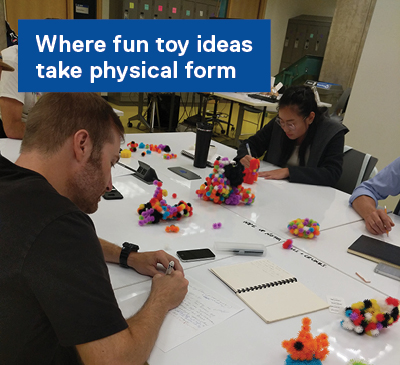 Are you interested in toy invention and looking for hands-on learning and guidance from industry experts like Spin Master?
Our Course Series in Toy Invention will give you the knowledge and skills needed to pitch toy concepts to professional toy companies. Learn how to prototype a toy concept, test your concept, and then get direct feedback from industry professionals. You'll walk away with a portfolio displaying your toy ideas and newly acquired presentation skills, including a complete prototype and a video you created to promote your toy.
Industry and Careers
This course series can lead to career paths in roles such as:
Toy inventor
Toy and games inventor
Toy entrepreneur
Who Should Take This Course Series?
Playful, open-minded makers interested in pursuing a career in toy invention. Our learners come from a variety of diverse backgrounds, including – but not limited to – education, psychology, storytelling, design (industrial, graphic, etc.), engineering (mechanical, industrial, etc.), and other technology fields.
What Will You Learn?
This program is highly experiential and project-based, and it will include in-studio learning as you progress through different stages of the toy concept development process.
After completing this course series, you will be able to:
Identify the principles of toy invention and elements of gamification.
Apply creative tools and methods to find novel ideas for toys.
Prototype toy concepts.
Conduct market research.
Identify the relevant intellectual property protections required for a toy invention.
Successfully communicate new toy concepts – verbally, in print, and in video.
In collaboration with:



Who Teaches the Courses?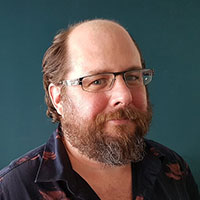 Paul Reynolds
Paul Reynolds is a veteran toy designer and inventor with Spin Master, a Canadian global toy and entertainment company that has been designing, developing, manufacturing, and marketing consumer products for children around the world since 1994. Over the past 15 years at Spin Master, he has led design teams in the creation of numerous new brands and innovative new products. Highlights include Pixos, Dr. Dreadful, Marshmallow, and Bunchems, which won him a coveted Toy of the Year Award. Paul has a passion for innovation and inventing toys that inspire children with a sense of awe and wonder. He has lectured and judged at many colleges, universities, and design competitions and is passionate about bringing the best out of others' ideas.
---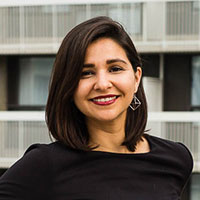 Lorena Escandon
Dr. Ma-Lorena Escandon-Quintanilla is an Assistant Professor for the School of Creative Industries at Toronto Metropolitan University. Lorena is a creative animator and a consultant in innovation, creativity, and new product development. She studied Information Technology at the University of Monterrey in Mexico, earned a master's degree in Entrepreneurship at Lund University in Sweden, and holds a PhD in Innovation Management from the École de Technologie Supérieure in Montreal, Canada. In her research, she combined theories of idea generation with the use of information technologies – specifically, how to use data analytics to create innovative ideas. Her academic fields of expertise include innovation management, collaboration processes, and innovation tools and techniques. She is interested in helping individuals and teams identify areas of opportunity for innovation, facilitating collaboration, and knowledge dissemination.
Course Series Requirements
Successful completion of 4 required courses
This course series is cohort-based; all participants will move through the completion of the four required courses as a group. You should be prepared to commit to completing the entire course series, which will take place over one academic year (Fall and Winter terms). CDTI 100 and CDTI 110 will take place in the Fall term, and CDTI 120 and CDTI 130 will take place in the Winter term.
Page
How To Apply
We are looking for creative, curious, open-minded participants who are willing to play, share, and work with others. The application process for this course series involves the following steps:
Email a letter of interest (one page maximum) explaining why you want to participate in the program, along with your curriculum vitae (CV) or resumé, to Lorena Escandon, Academic Coordinator, at lorena.escandon@torontomu.ca. Be sure to include your contact information.

The program instructors will review your application and contact you to arrange an interview.
Following the interview, selected applicants will be given an assignment to complete (instructions and timeline will be provided). The program instructors will review the assignment submissions and communicate the decision of acceptance to successful applicants.
Applications will be accepted until the program capacity has been reached.
Our Partners
Spin Master

Spin Master is a leading global children's entertainment company, creating exceptional play experiences through its three creative centres: Toys, Entertainment, and Digital Games. With distribution in over 100 countries, Spin Master is best known for award-winning brands PAW Patrol®, Bakugan®, Kinetic Sand®, Air Hogs®, Hatchimals®, Rubik's Cube®, and GUND®, and is the global toy licensee for other popular properties. Spin Master Entertainment creates and produces compelling multiplatform content, through its in-house studio and partnerships with outside creators, including the preschool franchise PAW Patrol and numerous other original shows, short-form series, and feature films. The Company has an established presence in digital games, anchored by the Toca Boca® and Sago Mini® brands, offering open-ended and creative games and educational play in digital environments. Through Spin Master Ventures, the Company makes minority investments globally in emerging companies and start-ups. With over 30 offices in close to 20 countries, Spin Master employs more than 2,000 team members globally. For more information visit spinmaster.com or follow on Instagram, Facebook, and Twitter @spinmaster.
---
Shenkar College of Engineering, Design and Art

Shenkar College of Engineering, Design and Art is a top-ranked public academy in Israel. It enjoys high acclaim among international academic and professional circles for the quality of its graduates and for the innovations that emerge from its laboratories. Shenkar's goal is to foster an interdisciplinary environment where designers and engineers work together shaping the future of technologies.
Shenkar was founded in 1970 as a "College for Fashion and Textile Technology," with the goal of providing a skilled workforce for the then-blooming Israeli textile industry. Shenkar has since expanded to represent all classic design and engineering disciplines within its six fully-fledged design and art departments and five engineering chairs, as well as its twelve specialized research centres.
Shenkar's toy invention program started at its School for Continuing Education and Diploma Studies at 2013. Led by Tal Schreiber, the program has dozens of graduates; over 70% are now professional toy inventors. The program's success led to internationalization of the program, accompanied by collaboration between academic centres around the world.
Contact Us
Page