Sidebar Menu
ACT II STUDIO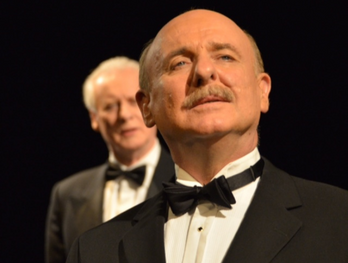 Embark on a journey of creative expression.
Discover a world of possibilities with ACT II STUDIO: learn new skills, discover hidden talents, and join a community of theatre lovers. It's never too late to explore your creativity!
The Estelle Craig ACT II STUDIO
The Estelle Craig ACT II STUDIO at Programs for 50+ is an inclusive, creative program that provides adults over 50 the opportunity to develop skills in the dramatic arts and hone them in a nurturing environment. Students from all walks of life and any level of experience can focus on acting, directing, playwriting, or storytelling in many different genres from Shakespeare to avant garde. If you're looking for a chance to express yourself through the magic of theatre, come join our vibrant creative community.
Current Act II Studio Courses
Acting
CSAC 102 Intro to Acting II
CSAC 114 - Introduction to Scene Study
CSAC 124 Essential Movement for Actors
CSAC 169 - Acting on Camera A to Z
CSAC 195 - Greek Comedy
CSAC 208 Heightened Monologues
CSAC 222 Intro to Voice Over Performance
CSAC 266 Scene Study: Film Favourites
CSAC 315 Advanced Scene Study
CSAC 434 Introduction to Stand-Up Comedy
CSAC 705 Clowning around on Camera
Playwriting
CSAC 656 Rewriting Your Play
Directing
CSAC 531 Directing and Performing Ibsen
CSAC 721 Reading Plays to Direct
Greek Series
CSAC 195 - Greek Comedy
CSAC 390 - Greek Comedy Scenes
CSAC 391- Greek Comedy Performance
act2studioWORKS
Enhance your theatre experience by joining act2studioWORKS, a non-profit organization created by ACT II STUDIO students.
act2studioWORKS provides students with extended programming opportunities to put developing skills into practice. Performances, playwriting circles and play workshops, StoryFests, collective projects and Directors' Showcases complement courses offered through ACT II STUDIO.
Through act2studioWORKS' touring arm, Moving Scenes, take part in community outreach by participating in shows that communicate older adult voices and raise awareness about pressing social issues such as dementia, ageing and ageism, elder abuse, and health care.