International Midwifery Pre-registration Program (IMPP)
Please email impp@torontomu.ca to receive information about the next IMPP admission process.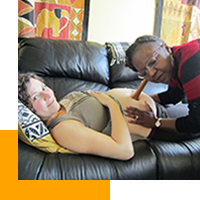 The International Midwifery Pre-registration Program (IMPP) is a nine-month bridging program.
It provides internationally educated midwives with the following:
Knowledge and skills assessment and enhancement
Orientation to midwifery practice in Ontario
Professional communication training
NRP, ESW, and FHSL certification
A 16-week clinical placement with competency assessment
A six-month accelerated stream for qualified entrants
Preparation for the mandatory Canadian Midwifery Registration Examination (CMRE)
The IMPP is intended for experienced internationally educated midwives who are fluent in English and have practiced midwifery within the past 10 years.
Not ready to enrol but want to learn more?
Fill out this form and a representative from The Chang School will contact you.
Who Is Eligible?
To be eligible to apply to the IMPP, you must meet the following requirements:
Be a Canadian citizen, permanent resident, or a Protected Person in Canada (refugee) with official permission to work in Canada
Have completed a midwifery education program anywhere in the world
Have practiced midwifery in the role of primary midwife (most responsible attendant) at a minimum of 100 births within the past 10 years.
Note: Primary care births which were part of your midwifery education may be counted towards 70 of the 100 required births.
Have practiced midwifery full-time after completion of a midwifery education program for a minimum of six months and been primary midwife at a minimum of 30 births during this period. This work period may have been paid, voluntary, or a postgraduate work placement. Contact information for the supervisor who can verify employment and birth numbers and provide a reference must be provided. Transfers of care in up to 25 percent of births may be included if the applicant managed care in labour to point of transfer. Multiple supervisors for births and births in multiple settings or countries are acceptable. There are no continuity of care requirements for the 100 primary care births.
You must have taken the IELTS Academic Examination and achieved minimum scores of seven in each component. An IELTs test report form is valid for two years. The IMPP will consider applications for extensions of up to one year to enhance access. All applicants must have taken the Academic IELTs examination, even if English is their first language and their midwifery education was in English.
How to Apply
Program Components
The IMPP will orient you to Ontario's required midwifery knowledge and skills, and provide you with required certification opportunities, accelerated gap-training testing, and national registration exam preparation.
Your online Simulation Lab experience, in-class courses, and clinical placement will enhance and assess the theoretical and clinical skills required in Canada. Review the program components for further details.
Program Admission and Tuition Costs
The following is a breakdown of program's admission and tuition costs:
Phase 2 Testing – $350
Admission Processing Fee – $300
CVIM 100 Prior Learning Assessment for Midwives – $1,053.09
CVIM 200 Effective Professional Communication for Midwives – $816.19
CVIM 300 Clinical Skills and Knowledge Enhancement for Midwifery – $816.39
CVIM 400 Orientation to Midwifery Practice in Ontario – $1,053.09
CVIM 600 Clinical Clerkship (16 weeks full time/on call in Ontario) – $3,107.94
Testimonials
"I am now a Registered Midwife in Ontario, Canada. Before starting my career in Canada, I obtained my degree as a Registered Midwife in Peru. Participating in the International Midwifery Preregistration Program (IMPP) gave me the opportunity to demonstrate my previous midwifery skills and it helped me to adapt my qualifications to the Ontario midwifery model. I currently practice as a full-time midwife at Midwifery Services of Lambton-Kent in Sarnia, Ontario. In addition to my clinical work, I am a seasonal instructor at the Midwifery Education Program at Toronto Metropolitan University and I am volunteering as a Maternal Health Senior Advisor for the implementation in Latin America of the Uterine Balloon Tamponade Project. I am also a volunteer member of the Strengthening Midwifery Services in South Sudan Project, supported by the Canadian Association of Midwives, and am a committee member at the Virtual International Day of the Midwife Conference."
– Susana Ku (Peru)
"I was born and raised in Lebanon. I graduated in 2006–2007 with a Bachelor in Midwifery and I obtained a diploma in obstetrics from Saint Joseph University in 2009. I practised as a professional midwife in different settings from 2006 to 2014, where I conducted over 1000 deliveries, until I moved to Canada. I had to start again from below zero and had to start learning English in Language Instruction For Newcomers to Canada (LINC) school in Mississauga, Ontario. After a year and half of studying only English, I successfully completed the International Midwifery Pre-registration Program (IMPP) and the national exam. I joined Midwifery Program in Swift Current on December 12, 2017. I am passionate about my work and I enjoy seeing that first moment that a baby is brought into the world; sharing that special time with parents is wonderful."
– Mirvat Ouwayza (Lebanon)
"I am from Sierra Leone, West Africa. I left my homeland at the age of 22 to study in Germany. I studied nursing in Germany and worked there as a nurse for a few years before moving to London, United Kingdom. After 2 years in London, I moved to Ireland with my wife. We lived in Ireland for 17 years before moving to Canada in 2014. I worked as a nurse in Ireland before becoming a midwife. I decided to study midwifery after my first child was born in 1999. In Ireland our average deliveries per day was 15 to 20 babies. Though I started counting my deliveries initially, I soon lost count due to the sheer amount of deliveries. I graduated with a postgraduate diploma in Midwifery from the University of Dublin in 2002 and a Master of Science in Midwifery Education from the University College Dublin in 2009. I worked as a midwife in Ireland for 12 years before relocating to Canada in 2014 with my wife and three children. I also worked as a sessional midwifery lecturer at the University College Dublin for several years. In Canada, in addition to being a Registered Midwife, I'm employed by Brandon University as sessional instructor and teach First Aid, CPR, and a Health Care Provider course for St. John Ambulance. I became interested in studying midwifery after seeing and losing family members in child birth due to the poor maternity care in my home country. Sierra Leone has one of the highest morbidity and mortality rate in child birth in the world according to WHO. I always wanted to find a way that I can help save women's lives during child birth and after witnessing the birth of my daughter in 1999 in Dublin, I finally made the decision to study midwifery and hoped to be able to use my knowledge and skills to help pregnant women in my homeland someday."
– Alfred Sankoh (West Africa)
Frequently Asked Questions (FAQ)
Visit our Frequently Asked Questions (FAQ) for answers to commonly asked questions regarding program completion, eligibility to apply, financial matters, and midwifery in Canada.
Contact Us