Sidebar Menu

The Chang+ Mobile App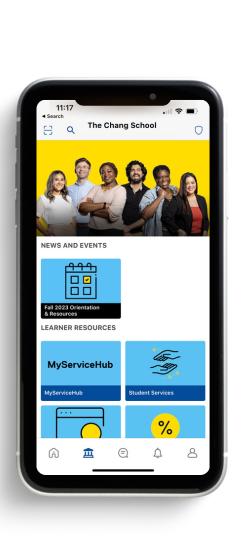 At The Chang School we want to ensure you always feel connected to your campus community. With our new mobile app Chang+, the traditional learning experience is transformed, bringing campus to your fingertips.
Chang+ is full of helpful resources to keep you on track and provides a digital space for you to engage with industry professionals and peers in the dedicated community section.
Additional features and benefits:
Stay on top of your events, classes, and assignments with a built-in calendar function.

Receive notifications of important dates, deadlines, and security announcements.

Sign up and attend online events through Chang+.

Access helpful campus resources at any time.

Exclusive perks and benefits for Chang+ users.
Privacy Policy | Visit FAQs | Your Toronto Metropolitan University credentials (SSO) are required to sign into the app. If you have any questions about the app please contact ce@torontomu.ca