Not Ready to Apply to Undergrad?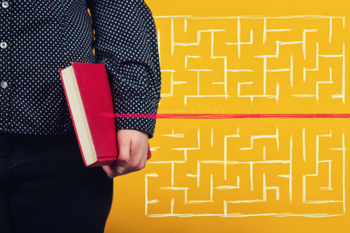 March 16, 2022
For young adults wanting to take a year out before leaping into an undergraduate degree, a gap year has been a popular option for many years. However, with the pandemic and countries only recently re-opening their borders and loosening restrictions, that hasn't been a possible (or easy) option.
Even if travel is becoming easier, taking a year out still might not solve the age old question of, "What do I want to be when I grow up?" for some people. As with many things in life, sometimes the answer can be found in "learning by doing."
A New World of Possibilities
Brian Rabinowicz, Continuing Education Coordinator at The Chang School, said psychology is often an area that people are interested in – even if they've only just heard about it. "Various courses within The Certificate in Psychology on cognitive, social, and developmental psychology, tell people what the different sub areas are within psychology and may trigger an interest in that particular area," says Brian.
For example, Brian says someone might not know that psychology has anything to do with children but took developmental psychology and learned about child development. This might spur them on to learn more about pursuing a career in early childhood education.
"It opens up all kinds of possibilities," he says.
The Certificate in Psychology can lead to further study in various fields that can lead to careers like child and youth worker, community worker, gerontologist, and social worker, among others. Students can use the degree-credit courses toward an undergraduate degree in psychology. However, taking the certificate doesn't guarantee admission to an undergraduate degree in psychology.
According to the Canadian Psychological Association, to become a psychologist in Canada, after completing an undergraduate degree, you then would need to obtain a master's degree and/or doctoral degree, which takes a minimum of six years. On top of that, to practice in Ontario, you need to register with the College of Psychologists of Ontario, which requires four years of work experience and one year of supervised practice.
Acquiring In-Demand "Soft or Human" Skills
Regardless of a student's goals, the Certificate in Psychology allows students to acquire a strong academic foundation to pursue post-secondary studies, even if they don't want to become a psychologist. While there has been a lot of talk during the pandemic about people upskilling to meet increasing technical requirements in their jobs, there's been less about the soft skills required alongside those. In the post-pandemic recovery, national nonprofit, Palette Skills said in a recent article on its website that upskilling must balance soft skills like communication, negotiation, and networking, and technical skills.
Palette Skills writes: "While strong technical skills are often a necessary competency for employment, the reality is that employers are more focused on finding talent with the right foundational and business skills. Through our partnerships with employers, we've learned that many companies are prepared and willing to provide technical upskilling to employees who have the right mix of foundational skills and business acumen".
For example, critical thinking skills are in high demand, as Danny Chang, Director of Strategy and Operations and founding member at Delphic Research, recently pointed out at a Chang School panel discussion on what it's like to work in tech in Canada.
At a startup like his, Danny said one of the key things they look for is the ability to think critically. "It's about being a problem solver who can apply first principles to anything that comes your way," he said as opposed to working for a large company and being hired to do a highly specialized job.
One of the courses in the Certificate in Psychology, CPSY 308 - Psychology of Thinking, covers critical-thinking contexts such as solving problems, making decisions, testing hypotheses, and understanding probabilities.
How the Pandemic Has Changed Learning
Another big topic in the field of psychology that's become more mainstream in recent years is talking about mental health – whether it's celebrities going public with their struggles with mental health or national campaigns like CAMH's "mental health is health". Brian says anecdotally he's been hearing from students that they can't wait to get back into the classroom.
"Many students miss the direct interaction that they get in classrooms," he says. "They don't find asynchronous learning, even if it offers the opportunity to talk to an instructor in real time, adequate."
On the positive side though, Brian says Covid has been a real trigger for the Psychology Department at Toronto Metropolitan University to develop new online courses and expand their offerings. "For those students who want or have to have (online courses), there will be more opportunities," he says.
Brian adds that the certificate also features an independent study course (CPSY 612), similar to a capstone course in other certificates, where students get a 1:1 relationship with a faculty advisor. This is a unique opportunity for students to work directly with an expert and receive feedback from. They can also use it on their resume as related work.
"They get the benefit of a 1:1 relationship and guidance with a faculty member of the department," he says. "It's similar to the opportunity that a graduate student would have."
So even if you're not sure where you want to end up in your career, there are many real-world, practical applications to study psychology, even if you didn't think so before.