Breaking Down Barriers: Helping Vulnerable Youth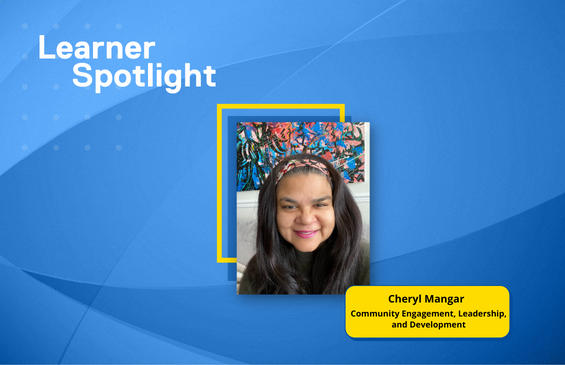 July 11, 2022
There's something special about finding an online certificate program that checks off all the requirements to grow a career and fit into the busy lives of full-time professionals. For Cheryl Mangar, deciding to pursue the Certificate in Community Engagement, Leadership, and Development was just that.
Cheryl has worked with vulnerable youth for nearly two decades in the child welfare sector. While she has a wealth of experience, she wanted to gain insight into the barriers, particularly around mental health, that are often associated with young people transitioning out of the child welfare system.
We recently spoke with her to find out why she chose The Chang School to help her achieve her learning and professional goals. Here's what she had to say.
The Chang School: Why did you choose continuous learning at The Chang School?
Cheryl Mangar: In researching the certificate programs, I learned about the Certificate in Community Engagement, Leadership, and Development and was interested in gaining more insight about engagement with communities that experience barriers to services and are impacted by a lack of equity and social justice issues. The Chang School offers online and asynchronous study options, which appealed to me as I work full-time and have a busy schedule. I also appreciated that I would be in a learning environment with mature students who were also returning to university to continue their learning journey.
CS: What are some challenges facing the community you serve that you are looking to better understand and support?
CM: The community I serve is young people transitioning out of the child welfare system, aged 16-29 years old. This population continues to face many barriers across social determinants of health as they leave care. Young people are capable, determined, talented, and have aspirations and hopes for themselves. I want to support their personal growth and self-empowerment as well as offer meaningful assistance in the healing of trauma, mental health issues, and lack of connections as they leave this system.
CS: What is a key takeaway from this certificate that you're looking forward to applying to your work with youth communities transitioning out of child welfare?
CM: This certificate emphasizes the collaborative approach and sharing of power. I look forward to working with my team to create more opportunities for young people to gain agency in the decision-making process for important milestones in their lives.
CS: What is an important skill that community engagement leaders should have?
CM: The skill I value is self-reflective practice and active listening. Community engagement relies on creating safe, inclusive spaces when working with diverse communities. I also think that having a clear vision with the community for what you want to achieve together sets the stage for a successful partnership.
CS: Why is it important to stay up to date with new information and skill sets in your field?
CM: We are all evolving and I want to ensure that I have the most relevant and current understanding of issues impacting the communities I serve.
CS: How will this certificate help you in your current role and career?
CM: It will help me to improve my program and the way we offer services so that young people feel they are supported and ultimately that they have better outcomes.
CS: How did your online courses fit into your work/life schedule?
CM: I appreciate the flexibility and convenience that online courses provide. I work full-time and attend school part-time so this option has been a time saver as it reduces travel time. The online courses are interactive and interesting. The discussion boards give me the opportunity to get to know my fellow students.
CS: What advice would you give someone who is looking to start a career in community engagement?
CM: My advice to someone looking to start a career in community engagement is to cultivate a practice that is culturally safe and transparent. These will be a key to building trust and a positive foundation for working collaboratively with the community.
Learn more about our Certificate in Community Engagement, Leadership, and Development