What is a Full Stack Developer and Why It's Trending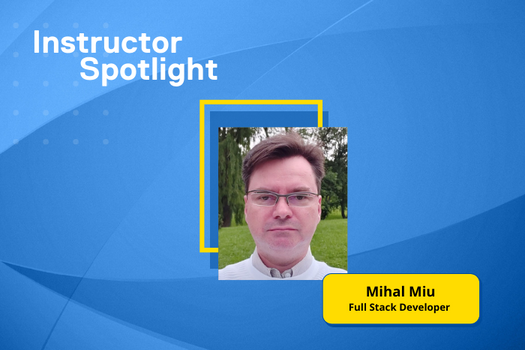 July 21, 2022
Since the onset of the pandemic, there has been growth in the e-commerce retail and services sectors, social media platforms and the Internet of Things (IoT) empowered services, products and solutions.
Enterprises exponentially adopted digital services and products as a result of the onset of COVID-19. Respondents are three times more likely now (than before the pandemic) to indicate that at least 80 percent of their customer interactions are currently digital in nature, according to McKinsey & Company. Due to their broad knowledge and flexibility, full stack developers, whose salaries range from $75K (entry-level) to $100K-plus (mid-career level), according to StackCommerce, are projected to be in high demand over the next decade; especially across the tech function within private organizations and at all levels of government in Canada, according to Randstad.
We sat down with Mihal Miu, an educator in Computer Science at Toronto Metropolitan University and who is also one of the instructors for the new Certificate in Full Stack Developer, offered starting this fall through The Chang School. Mihal shed some light on the current job market for full stack developers, the skills shortage in the tech industry, as well as why you don't need to be a coder to take the certificate.
The Chang School: What's the job market look like for full stack developers globally and in Canada?
Mihal Miu: There's a forecasted increased need for full stack developers both globally and in Canada. According to the Coursera Global Skills 2021 Report, it is forecasted that by 2029, there will be a 22 percent increase in Software Engineering/Developer jobs, with the top jobs being full stack developers, back-end developers, front-end developers, Python and JavaScript developers. The report also cites that, by 2025, 43 million new roles globally will be created, and many will align with and support the 98 million software developer jobs that will already exist by that date, as both these types of roles and skill sets need to work 'hand in glove' to drive the digital transformation revolution.
CS: What is the biggest reason for a skills shortage in the tech industry in Canada, particularly in full stack development
MM: There are primarily two reasons for a skills' shortage in tech and especially in full stack cloud website development in Canada. The first is that no undergraduate degree programs, not even Computer Science or IT, at universities and colleges teach in combination the JavaScript, SQL and Python programming languages, software applications, and tools needed for end-to-end web development: front-end, middleware, and back-end.
It is not enough to teach oneself to build the front-end of websites. You need to be able to connect the front-end of the site to the middleware, and link both to the back-end to the site's dynamic databases. The second is that employers are looking for combinations of specific coding and applied technical and analytical skills required to construct 'fully stacked' websites. Eighty percent of all Canadian e-services and e-products are offered on fully stacked websites, including online retail stores, banks, and provincial health portals. Those who proactively decide to 'skill up' by taking a skills-based, hands-on program are the much-in-demand, future full stack web developers of Canada with gainful employment and career longevity.
CS: How has the demand for e-services driven and widened this skills shortage gap even further during the pandemic?
MM: During and after the pandemic, e-services and ecommerce, instead of in-person transactions, exploded both in the retail and government sectors as did the needs across all industries for e-solutions and e-business operations. The public then, now, and into the future, expect to access services remotely from home on all their devices, from cell phones, iWatches (referred to as "wearables") to tablets and laptops.
Full stacked cloud-developed websites provide multi-device compatibility and connectivity to dynamic exchanges of data that are imperative for a company's or a government's e-services to meet new and existing clients' expectations on a grand scale. For example, Service Ontario provides 80 percent of its services online. Traditional retailers such as Hudson's Bay Company have an online presence in order to offset losses from their retail operations. E-services allow a Canadian company to operate on a global market instead of a regional market.
CS: What more can post-secondary institutions be doing to help address this skills gap?
MM: It is hard to predict the future. You are studying now to gain a place in the workforce. What is your outlook, one year, five years, ten years, or 20 years from now? To close this skills gap and become a full stack developer, you will need to be able to code, build and deploy fully multi-device compatible websites and mobile applications, from end-to-end, including front-end, middleware and back-end, by using a number of languages, tools and applications.
As you can see, to address this outlook, you will need technical and analytical skills for these jobs in the present and future. Post-secondary institutions need to consult employers to ensure their upskilling offerings are applied, such as is the case at Toronto Metropolitan University, therefore resulting in credentialed workers with high levels of in-demand expertise. Higher education needs to incorporate 'power skills' (transferable skills) into sophisticated skills' upgrading programs such as agile project management, professional communications, problem sensitivity, and business acumen about emerging and evolving industries and stakeholders.
CS: Do people taking the course have to have a background in coding, programming languages, or software applications? (This might be a big hurdle for some considering whether to pursue a certificate in full stack.)
MM: No. The certificate and the courses are designed with no prior coding or technical background. However, a good understanding of computational math and a strong motivation to learn will help reduce the learning curve.
Learners in our certificate and courses have access for no additional fee to virtual mentor services as well. The virtual mentor is available free of charge for 1-on-1 Zoom meetings and for consultations by email about the coursework, assignments, final projects, and for career advising.
CS: Can you point to some specific examples of how we're using e-services more than before and how full stack developers help companies ensure they're providing their customers with the best possible support and service?
MM: Only organizations who have highly expert full stack developers are the ones able to provide clients with quality support and service. Most of us have experienced poor quality e-services websites where we have given up due to failure to complete transactions. Full stacked websites across companies and government agencies are what website users depend on for their e-banking, air flight check-in, e-purchases, e-health portal documentation repository, travel arrangements, or remote access to work meetings and digital projects.
Suppose you would like to purchase a car: you have to research a car available that meets your needs. Cars may be available but are they available in your local market? You can converse with chatbots or be connected to a person online in order to find a local dealership that has cars that meet your needs. Visiting a physical location is one of the last steps in your purchase. A car purchase is a major decision in your life and it is facilitated by e-services.
CS: Is there anything else you would like to add?
MM: Full stack developers can provide flexible, high quality web presences to potential, existing, and future clients. Every organization serving or selling to the public needs top-of-the-line full stack developers required to innovate, maintain, and keep the full stack web presence current and tethered securely in the back-end to dynamic databases.
As I stated earlier, full stack developers have multiple skills: front-end, middleware, and back-end web development skills, all of which are absolutely critical to providing a competitive advantage for all organizations and quality experiences for clients.