Architecture Sector Predicted to Grow With Jobs In Demand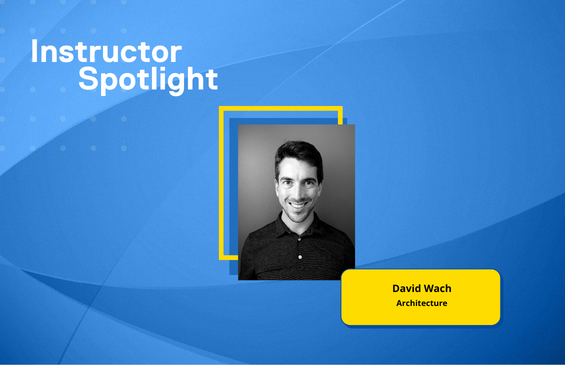 October 17, 2022
There is a rising demand in Canada for architectural services and, as a result, for professionals who possess skills as architectural technologists and building science professionals. Architecture is a rewarding field with a positive growth outlook into the future.
Recent studies from IBISWorld found that economic growth is driving construction in Canada, which is increasing the demand for architectural services as the two industries are intrinsically linked. For example, in the City of Toronto and the Greater Toronto Area and Hamilton during the pandemic, construction of condominium buildings and private residential housing continued unabated. This resulted in a continuing need to hire and retain architectural and building science professionals.
Employers from the Certificate of Architecture's Program Advisory Committee indicate that they are filling empty positions and have created new job openings. In the mid- to long-term, they see themselves hiring at a steady rate architectural technologists, technicians, and building science professionals.
We recently spoke with The Chang School Certificate in Architecture Course Instructor, David Wach, about the demand for jobs in architecture, how the Certificate in Architecture prepares learners for a career in the field, and what inspires him.
The Chang School: What draws prospective learners to enrol in courses in the Certificate in Architecture?
David Wach: We find that many of our prospective learners are already in the industry and would like to upskill through a university-based program to become architectural technologists. Many of our students are new Canadians who were architects in their home countries. We find that the predominant driver for completing the Certificate in Architecture is to master in-demand skills in order to advance their careers as architectural technologists and building science professionals for northern climate residential and commercial residences and gain the technical, digital architecture, technical, and professional capacities Canadian employers want.
CS: What's trending in architecture at the moment?
DW: As mentioned above, economic growth has been driving construction, and the health of the sector is tied to the tight and dynamic real estate market (including both private and public dwellings). In general, the industry has benefited from positive demographics. Long-term trends over the majority of the next five to 10 years, such as an aging, immigration, and urbanizing population have helped spur demand for residential construction, especially in metropolitan areas, which, in turn, boosted revenue for architectural services.
There is a general awareness in the field of architecture for buildings to perform more sustainably. As such, the industry including architectural design has generally made a move toward building more sustainably, both in new buildings and also in the preservation and conservation of existing built environments. In the case of existing built environments, there is a recognized need to retrofit sustainably and for reduced energy consumption.
The industry for architectural technologists and building science professionals has evolved through the use of digital architectural technology, such as computer-assisted design and building information modelling. Technology has spurred more efficient and collaborative design between architectural professionals and other building professionals and contractors. Generally gone are the days of passing stacks of paper within the industry, the world of architecture is becoming increasingly digitized with collaborative design in real-time.
CS: What kind of skills does someone learn in the courses taught?
DW: Our students learn in-demand skills in building codes and building materials for Canada's northern climate pertaining to architectural preservation, sustainable building science, and in the latest industry-adopted digital architectural technologies in Canada. Graduates of the Certificate in Architecture program gain skills needed to work in all sectors of architecture, including on residential, public, and commercial projects. They are particularly suited toward technology-driven architectural practices with focuses on sustainability, preservation, conservation, and building science.
CS: What kind of job could someone expect after completing the certificate?
DW: The Certificate in Architecture is targeted toward aspiring and current architectural technologists and building science professionals who want to upskill or gain knowledge about Canadian architectural practice. The curricula has recently been updated and is designed to bridge the gap between labour market and the high demand for Canadian-born and non-Canadian born architectural technologists and building science professionals requiring Ontario university credentials (such as The Chang School's Certificate in Architecture) to be hired and to be promoted as building science, architectural technologist and architectural technician professionals.
CS: Do most of the instructors like yourself work in the industry and does that help with getting students connections?
DW: All of our instructors are building professionals who work in the industry. The majority are practicing architects, while a select few including myself are professional engineers. We understand from current and previous students that they see our architect and building science practitioner instructors and their expertise as providing them leverage for which they are looking to acquire specific, in-demand skills in the Canadian architectural landscape. Access to instructors who are professionals in the field gives the students insight to help to pass employer tests at the first stages of job interviews, for career advancement, for career portability (e.g. changing careers from architect in their home country to architectural technologist in Canada) and for career longevity.
CS: What aspect of architectural preservation inspires you most and why?
DW: There is an enormous amount of history, character, and beauty interwoven in older existing buildings. They were built with a level of craftsmanship that required different skills than what is present today. I believe that architecture of the past deserves to be preserved. In Canada, buildings contribute a very large proportion of overall energy use and there is an urgent need to reduce the amount of carbon produced by their operation. Many older buildings use a large amount of energy because they are poor thermal performers due to a lack of insulation and air-tightness. These buildings are prime candidates for thermal retrofits. Because of the nature of the materials involved and the relatively harsh Canadian climate, thermal retrofits must be carefully designed as building durability can be compromised.
Due to their age, many older buildings in Canada are currently in need of restoration. This gives us an opportunity to simultaneously repair buildings to maintain their aesthetic, while also improving their thermal performance. While preserving existing buildings, I'm inspired by the chance to make positive environmental impacts and to make existing buildings more suitable for future generations while applying concepts of building science.