Chang School Top Learner Stories From 2022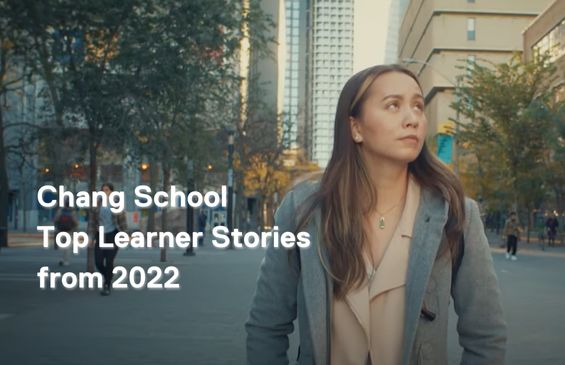 January 19, 2023
As we enter a new year and are making goals, we thought it might be helpful to look back on the achievements from our learners in 2022 for inspiration. We've compiled a list of moments that we wanted to share with you as you plan for the year ahead.
This Was the Top Career Launch Moment
Diana Nguyen featured in the "Reducing Stigma in Mental Health and Addictions" hub article and video on how the certificate inspired her to help people in her community access mental health services, which wasn't a focus in her undergraduate degree.
These Were the Top Career Progression Moments
Beverly Deleary featured in "Addressing Food Insecurity in First Nations Communities" on how the Food Security Concepts and Principles course helped her address food insecurity in her community.
Cheryl Mangar featured in "Breaking Down Barriers: Helping Vulnerable Youth" on how pursuing a Certificate in Community Engagement helped her better understand the barriers that the youth she works with face.
These Were the Top Career Pivot Moments
Wesley Reibeling featured in "How Experiential Learning Led to a More Fulfilling Career" on how experiential learning helped him follow his "advocacy heart" to a new career direction.
Emma Wood featured in "One Learner's Mission to Tackle Food Insecurity Differently" on how the Certificate in Food Security led to her founding her own community nonprofit.
These Were the Top New Canadian Moments
Certificate in Architecture Course Instructor, David Wach, featured in "Architecture Sector Predicted to Grow With Jobs In Demand" on how the certificate is designed to bridge the gap between the labour market and the high demand for Canadian-born and non-Canadian born architectural technologists and building science professionals.
Ron, who immigrated to Canada in 2016, was featured in a Chang School video on how leaving his corporate job in the Philippines behind. He wanted a career change and chose the Certificate in Community Engagement, Leadership, and Development at The Chang School.
Iryna, who moved to Canada from a small European town, was also featured in a Chang School video on how the Certificate in Accounting – Finance helped her get the Canadian experience and credentials she needed in order to apply for accounting roles in her new country.
This Was the Top Access to Higher Education Moment
Our Spanning the Gaps program turned 15 this year, marking 15 years in providing access to higher education for those who might not otherwise have pursued it. The program recognizes and addresses the challenges that some people face when accessing post secondary education and provides them a pathway to completing their studies. Watch the video showcasing some of the life transforming experiences Spanning the Gaps learners shared.
This Was the Top Commitment to Lifelong Learning Moment
Cathy Shilton, who enrolled in ACT II STUDIO with Programs for 50+, describes her commitment to lifelong learning as something that took her by surprise:
"Once I discovered the ACT II STUDIO where people over 50 could immerse themselves in all aspects of the theatre world, my commitment to lifelong learning took root without me even knowing it," says Cathy. "Like me, many in the Studio had been active in 'drama' in high school and university, then put it aside to pursue our careers. The classes we can take in acting, directing, and playwriting, as well the opportunities we have to put our learning on stage, enriches our later life experience in ways we never thought possible. This is why so many of us have been students for 10 years or more. Why would we ever stop?"