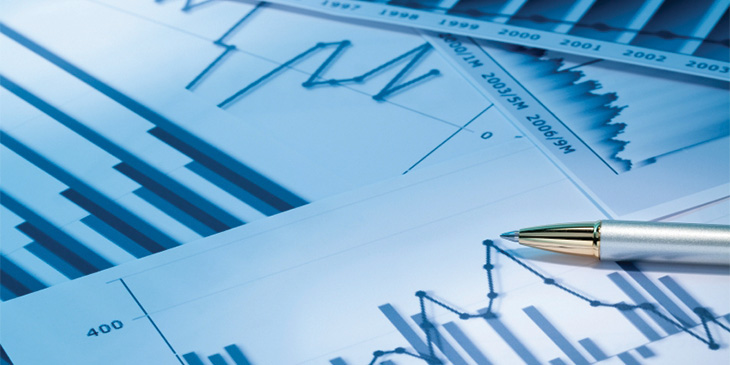 Not ready to enrol but want to learn more?
Fill out this form and a representative from The Chang School will contact you.
Express interest
The demand for specialists in data analytics is growing. Organizations worldwide continue to realize the potential of harvesting data to gain a competitive edge.
Up your game with our Certificate in Business Decision Analysis. Learn to identify and define particular business issues, ask the right questions, and use quantitative analysis to support your organization's business goals. Grounded in statistics, mathematics, and computer modeling, this program is designed to develop your skills in effectively using quantitative data for managerial decision-making, across the organization, to improve business outcomes.
This program:
offers both online and in-class learning
is eligible for OSAP
is comprised of degree credit courses
offers students the opportunity to apply all, or most, of the credit earned through the certificate as transfer credits to a Bachelor of Commerce program at Toronto Metropolitan University or at other universities (subject to admission and the requirements of the degree to which you are applying)
Note to students registered in this certificate program: Effective Fall 2020, the Certificate in Business Decision Analysis has been revised. Students who were formally registered in the certificate prior to July 2, 2020, must complete the curriculum requirements that were in effect at the time of their registration. For curriculum details, please refer to the archived calendar for your year of registration.
What Will You Learn?
Describe, summarize, present, and analyze statistical data to support business decision-making
Ask the right questions to identify and define particular business issues, then leverage data from across the organization to improve business outcomes
Create data collection and management strategies to support business decision-making
Use data to develop priorities for investing limited resources to the best advantage
Analyze business problems using model formulation and problem-solving techniques
Apply the more widely used time-series forecasting techniques and understand the practical problems of forecasting (data acquisition, model selection, and the interpretation of results)
Who Should Take This Certificate?
You want to add valuable skills in data analytics to your current professional practice.
You are a recent graduate looking to increase your competitiveness on the job market by complementing your degree with skills in data analytics.
You work in a sector (health, finance, retail) or job function (human resources) in which data analytics is increasingly driving business outcomes and you require a better understanding to excel in your role or be promoted.
Who Teaches the Courses?
Our instructors have extensive education and professional experience in data analysis for business decision-making.
Page
Industry and Careers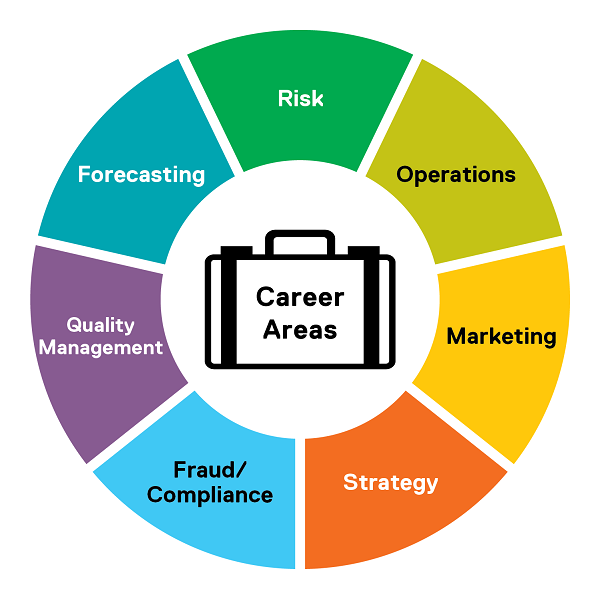 For strategic decision-making, businesses don't just need "big" data, they need "good" data.
In our increasingly data-driven world, analytics are regarded as a basic requirement for business planning, cost management, market research, and customer insight. Employers in every sector – from retail to finance to technology - hire analytics specialists to help solve business problems.
Our career wheel demonstrates a variety of areas that are integral to business success and that you could pursue upon completion of this certificate program.
Testimonial
"I had always wanted to be a lawyer...until I started working in a law firm. I had completed an undergraduate degree in History and written the LSAT but I just didn't find law exciting and I could not see myself working as a lawyer in the future.
Now what? The thought of going back to school gave me some reassurance; knowing I could still learn new skills and prepare for a new career was what I needed at a very uncertain time.
I liked the idea of social media and marketing. I realized the potential that online forums and chat groups could have on a company's brand. The Chang School offered the standard of education that a University like Toronto Metropolitan University is known for. Specifically, the Business Decision Analysis certificate program pushed me out of my comfort zone to tackle statistics and economics - topics that both scared and intrigued me. Thanks to the kind people at the tutoring centre, I passed with flying colours. This service is free for all Toronto Metropolitan University students, Chang School included!
While at The Chang School, I also got involved as the Marketing Coordinator for an international sailing event, which enabled me to expand my network. As part of my final project in a certificate course, I created a two-year marketing campaign for the sailing event. Through this experience, I combined my new skills in business statistics with marketing metrics and analysis. I also met someone who recommended that I apply for a sales job at an IT firm. After that, as they say, the rest is history!"
Robyn Ross
Territory Sales Division Manager, Softchoice
Frequently Asked Questions
Which electives should I take first?
Once the required course is completed, you may choose courses - in any order - that match your professional goals. If you successfully complete CIND 123 as your second course, you will be eligible for a Professional Development Award.
Certificate Requirements
1 required course
4 electives
Cumulative grade point average (GPA) of 1.67+
Supplies to be purchased by the student:
A calculator with specialized statistical features is integral to many Quantitative Methods courses. Software and calculator specifications will be announced at the first class.
Page
Admission Criteria
Recommended:
Ontario Secondary School Diploma (OSSD) or equivalent

With 6 Grade 12 U or M credits (including Mathematics)
OR
Mature student status with relevant professional experience in business
Page
Professional Development
Professional Development Award: Applied Analytics and Statistics for 21st Century Decision-Making requires completion of either CIND 123 and (CMTH 304 or CMTH 380) and CMTH 404) or CIND 123 and CQMS 210.
Awards and Financial Aid
Page
Page
Contact Us
Questions? Contact Client Services.

Email: ce@torontomu.ca