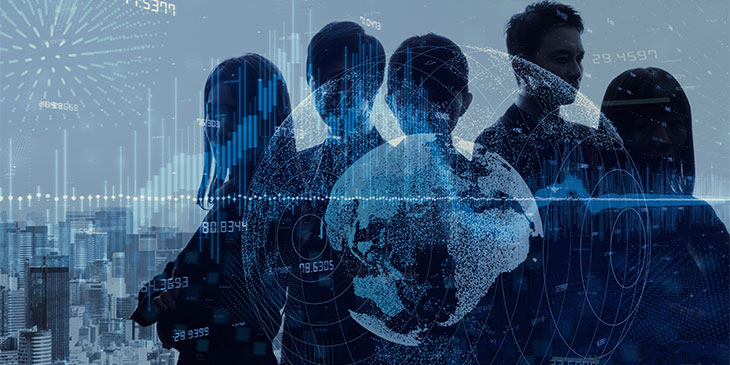 Not ready to enrol but want to learn more?
Fill out this form and a representative from The Chang School will contact you.
Express interest
As globalization impacts traditional business models, it is not uncommon for managers to engage with stakeholders working in different countries, currencies, time zones, languages, and cultures. In this context, employers across sectors are in a global war for talent, competing for professionals who have the managerial skills and cultural understanding to work effectively in today's global business environment.
In this certificate program, you will learn the basic business functions, operations, and processes of management in an international context. You will apply theory in real world case studies, simulations, and projects to demonstrate your understanding of how business is conducted in key geographic regions, taking into account the major cultural, political, and economic factors that shape approaches to business management internationally.
This program:
offers both online and in-class learning
is comprised of degree credit courses
includes all prerequisites for the Certificate in Advanced International Trade Management
offers students the opportunity to apply all, or most, of the credit earned through the certificate as transfer credits to a Bachelor of Commerce program at Ryerson or at other universities (subject to admission and the requirements of the degree to which you are applying)
Note to students registered in this certificate program: Effective Fall 2020, the Certificate in Foundation of International Management has been revised. Students who were formally registered in the certificate prior to July 2, 2020, must complete the curriculum requirements that were in effect at the time of their registration. For curriculum details, please refer to the archived calendar for your year of registration.
What Will You Learn?
Practice agile thinking and strategic decision-making to compete effectively in a changing global business environment
Define and understand the basic functions of management
Describe the production and operations management process in the transformation of goods and services from inputs to outputs
Apply mathematics in support of managerial decisions in various business functions
Appreciate the business-related complexities of interacting with people from diverse cultural contexts
Who Should Take This Certificate?
You have a degree in a related non-business field, such as political science or languages, and you want to enhance your employability at multinational organizations
You want to move into an international business environment
You work in a government agency related to trade, or an international non-profit organization, and would benefit from foundational knowledge in international management
You want a pathway to more advanced skill development, such as the Certificate in Advanced International Trade Management
You want to explore business courses that have an international focus without committing to a four-year degree program

Who Teaches the Courses?
Learn from instructors with extensive education and international business expertise.
Page
Industry and Careers
Did you know?
1 in 4 Canadian businesses considering international expansion don't know where to start.
Yet, 90% of Canadian companies that have expanded internationally claim they were successful.
In the new global business environment, employers need people who understand how the global economy, political events, cultural norms and social institutions can impact a business and the industry within which it operates.
Stand out from the crowd.
The Certificate in Foundations of International Management develops these core competencies valued by employers while also providing a pathway to more advanced skill development. This program enhances your ability to assess, and then effectively manage, the international complexities that affect a number of job roles, including: project managers, business analysts, management consultants, information officers, and non-profit managers. This program can also benefit those working in accounting or human resources roles within global enterprises.
Recommended Course Sequence
You should first take CGMS 200 - Introduction to Global Management or CQMS 110 - Applied Mathematics for Business, as these courses have no prerequisites.
You can then take CGMS 400 - The Global Business Environment and CGMS 401 - Operations Management to complete the certificate program.
Certificate Requirements
4 required courses
Cumulative grade point average (GPA) of 1.67+
Page
Admission Criteria
Recommended:
Ontario Secondary School Diploma (OSSD) or equivalent

With six Grade 12 U or M credits
OR
Page
Awards and Financial Aid
Page
Page
Contact Us
Questions? Contact Mike Manjuris, Academic Coordinator.

Email: manjuris@ryerson.ca