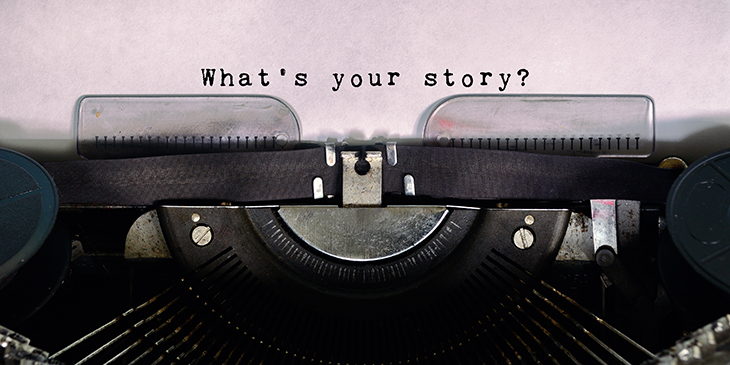 Not ready to enrol but want to learn more?
Attend a free information session on April 5, or have a representative from The Chang School contact you.
Welcome to the writing life at The Chang School!
Have you been holding on to an idea for a story for a long time? Have you wanted to develop a writing practice but don't know where to start? Maybe you already have a project on the go, but want to know how to take it to the next stage in its development.
Our goal is to jump-start your creativity and guide you through the craft of writing in various genres. Classes are small and students quickly form a community of emerging writers. Whether you are getting your feet wet with a beginner's course or making the final touches on your novel, we have a course to fit your needs.
Creative writing is both a craft and an art. Workshops allow students to dip a toe into the world of imaginative writing and then continue with more advanced workshops in a variety of genres.
We welcome beginners and advanced writers, and everyone in between.
What You Can Expect
Small classes with a hands-on approach: From the first class, you'll roll up your sleeves and start writing.
Constructive and supportive feedback on your work: Our courses feature lively, useful discussions on matters of craft and finding your voice.
Tips on how to get published: Many of our students have published their work in journals, newspapers, magazines, and books.
Expert, award-winning instructors: Visit our Instructor Profile Directory to read instructor biographies.
Earn a Professional Development Award in Creative Writing
Creative Writing workshops are non-credit, but students who successfully complete a minimum of three courses, totalling a minimum of 60 hours, are eligible to earn a Professional Development Award from The Chang School. You can also take more than three courses if you wish.
See Course Series Requirements for more information.
This course series offers the following benefits:
Enrol right away – open admissions with no application required
Earn a Professional Development Award on successful completion of all courses
Apply for merit-based awards
Testimonials
Our students are creative, interesting people from every walk of life, from all sorts of backgrounds, and from a wide range of ages. Some are new to writing, others are committed writers eager to get feedback, and all are bound by their desire to write. Many have become published authors.
Candice's Story

"Learning to tell meaningful stories with impact was a vital lesson. The Chang School changed the way I looked at writing and challenged me to develop thought-provoking content."
Candice
Creative Writing
---
Genevieve's Story

"The Chang School is where everything really got started for me as a writer. Writing can be such a slow, solitary, and doubt-filled activity; these workshops change that. Writing exercises got my ideas unstuck and energized, deadlines helped me finish what I started, and the process of peer and instructor feedback gave me the courage and confidence to keep going. I made great friends in these classes – we still exchange our work!"
Genevieve Scott
Author, Catch My Drift (Goose Lane Editions, 2018)
---
More Stories
Sue's Story
"At The Chang School I found myself immersed in a writers' community – and I loved every moment of it. The workshops allowed me to interact and share experiences with other writers, which in turn gave me the confidence to publish my first novel. I'm currently writing my third book!"
Sue Maynard
Author, Carving the Light
---
Brendan's Story
"I had been thinking about developing a website about my sailing trip to Australia for some time and 'Writers and the New Media' (CWWR 369) was just the thing I was looking for to get me started. Taking this course helped me focus my ideas and aided me in designing my site. The instructor, Rhonda Abrams, was helpful in critiquing my design and answering any questions I had. From the design and information about providers, to showing me how to get my site up and running, she was invaluable every step of the way. I would recommend this course to anyone who has a strong idea of what they want but just doesn't know how to start."
Brendan Shadford
---
Joanne's Story
"I took an online creative writing course through The Chang School. There were many talented people in that class, and I felt entirely out of my league, but I was encouraged by the instructor to continue. Since then I have written two novels, four short stories, and one children's book…I mostly work part-time, just four days a week, so I have plenty of time to write, but there have been weeks where I've worked more than 40 hours, and I still find that window of time to write. I have to. I feel the urge, the pull, to write. So to anyone that has these same feelings that I have, please keep trying. It's a wonderful feeling when you've written something that you KNOW is good."
Joanne Jackson
---
Jann's Story
"The quality of instruction is exceptional. The instructors are selfless, give you great hints, and create a very safe environment right from the get-go. That was one of the delights for me – the classes are made up of a real cross section of people, and everyone feels comfortable in coming forward. In addition, the instructors bring in guests who provide other voices, other opinions from the world of publishing."
Jann Stefoff
Our Students' Success
Many of our students go on to publish their work in journals, newspapers, magazines, and in book form. Here are some names you may recognize.
Laurel's Story
When Laurel Croza arrived at Toronto Metropolitan University's True to Life memoir writing class (CWWR 336), she had never attempted any creative writing. With encouragement from instructor Beth Kaplan as well as her classmates, Laurel developed an assignment into a manuscript for a children's book. The manuscript was accepted for publication by Groundwood Books. In June 2010, her book I Know Here won the Boston Globe-Horn Book Award for Excellence in Children's Literature. Her second book, From There to Here, was published by Groundwood Books in 2014. Congratulations, Laurel!
Other Published Writers
Martha Baillie (fiction, poetry, and reviews)
My Sister Esther (Turnstone Press, 1995)
Madame Balashovskaya's Apartment ( Turnstone Press, 1999)
The Shape I Gave You (Knopf Canada, 2006)
The Incident Report (Pedlar Press, 2009)
The Search for Heinrich Schlögel (Pedlar Press, 2014)
If Clara (Coach House Books, 2017)
Also many short stories, poems, and reviews in journals
Cathy Marie Buchanan (fiction)
The Day the Falls Stood Still (HarperCollins Publishers Ltd, 2009)
The Painted Girls (Riverhead Books, 2014)
Alexa Clark (non-fiction)
CheapEats Toronto
CheapEats Ottawa (Plethora Press)
Lainie Cohen (memoir)
Crooked Smile: One Family's Journey Towards Healing (ECW Press, 2003)
Laurel Croza (children's literature)
I Know Here (Groundwood Books, 2010)
From There to Here (Groundwood Books, 2014)
Anthony De Sa (fiction)
Barnacle Love (Doubleday Canada, 2008)
Kicking the Sky (Doubleday Canada, 2013)
Children of the Moon (Doubleday Canada, 2019)
Brian Francis (fiction)
Fruit (ECW Press, 2004)
Natural Order (Doubleday Canada, 2011)
Break in Case of Emergency (HarperCollins, 2019)
JF Garrard (fiction, non-fiction, poetry)
The Undead Sorceress (Dark Helix Press, 2014)
The Literary Elephant: The Beginner's Guide to Indie Publishing (Dark Helix Press, 2015)
Trump: Utopia or Dystopia (Dark Helix Press, 2017)
'Three Microaggressions' (poem) in Currents: A Ricepaper Anthology (Ricepaper Magazine/Asian Canadian Writers Workshop, 2017)
Rhoda Graser (various)
Memoir called 'A Tale of Three Stockings Without Holes' selected for anthology An Orange from Portugal – Christmas Stories from the Maritimes and Newfoundland (Goose Lane Editions, 2003)
Four short stories broadcast on CBC Radio (2004):
– 'The Old Neighbourhood'
– 'The Music of My Childhood'
– 'On Sundays We Dress Up.'
– 'What's Fair?'
All published in The New Brunswick Reader (2000)
Jessica Ruth Harris (various)
Essay called 'Escaping Emily' (winner in 2007 Short Grain Contest, Grain Magazine)
Story called 'The Art Project' in anthology My Wedding Dress: True Life Tales of Lace, Laughter, Tears and Tulle (Random House, Canada, 2007)
Gillian Kerr (non-fiction)
'Tiny Tomatoes' – a creative non-fiction essay in anthology Dropped Threads 3: Beyond the Small Circle (Vintage Canada, 2006)
Elise Levine (fiction)
Driving Men Mad (Porcupine's Quill, 1995; Emblem Editions, McClelland & Stewart, 2003)
Requests and Dedications (McClelland & Stewart, 2003)
Sue Maynard (fiction)
Carving the Light (CreateSpace, 2010)
Ebon Black and the Seven Dryads (CreateSpace, 2011)
K.D. Miller (fiction)
A Litany In the Time of Plague (Porcupine's Quill, 1994)
Give Me Your Answer (Porcupine's Quill, 1999)
Holy Write (Porcupine's Quill, 2001)
Genevieve Scott (fiction)
Catch My Drift (Goose Lane Editions, 2018)
Course Series Requirements
Successful completion of 3 required courses (totalling a minimum of 60 hours)
Page
Format
Each of our ten-week courses is made up of ten modules. In each module, we work together on a new aspect of the writing craft. There is no long lecture to read. Instead, the module offers thinking points and discussion points, followed by an exercise. You respond online, your classmates read what you say/write and respond to it, and the instructor gives feedback. There is a short homework assignment each week.
In ten weeks, we cover all the key elements of the genre. In addition, we invite an online guest (publisher/editor) who will answer your questions about the world of publishing and editing.
Participation and Sense of Community
You are expected to comment on the assignments of others, and in turn, they (and the instructor) will comment on and critique your posted work. The atmosphere is good-humoured and collegial, and there is no shortage of jokes and off-the-cuff observations, just as there would be in an earthbound classroom. In the final modules, you will have a chance to post a full draft of a story or travel article.
Contact Us
Questions? Contact Ana Abreu, Program Coordinator.

Email: aabreu@torontomu.ca