CDIM 102
-
Audio Description
262487
Course Description
This course consists of lectures about media languages, script writing, voicing techniques, audio processing and hands-on practice which are dedicated to using softwares to create AD. Upon completion of this course, students will be able to understand the different languages used in an audiovisual production and their importance in AD, the different AD styles, to write one AD script for different media and genres, and voice one AD script using different professional softwares.
Who Teaches CDIM 102?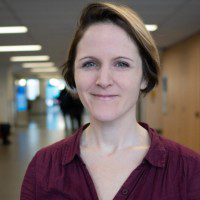 Margot Whitfield
Margot Whitfield (MMSt, BFA, Ontario Certified Teacher) has been a research associate at Toronto Metropolitan University's Inclusive Media and Design Centre since 2010. She has over 10 years of experience in recruiting diverse groups of people for user studies with blind and Deaf users, film and theatre directors, scriptwriters, and film festival organizers and theatres, including Mirvish Productions. She is passionate about access to arts and culture and has consulted on accessible video productions for both Toronto Metropolitan and the Ontario Arts Council.
Margot is proficient in basic American Sign Language. She has contributed to International Standards on audio description (ISO/IEC TS 20071-21:2015 Information technology — User interface component accessibility — Part 21: Guidance on audio descriptions) and has co-authored eight peer-reviewed journals.
Marie-Catherine Rombaut
Marie-Catherine Rombaut is a PhD candidate at Université Laval. Her doctoral dissertation focuses on French audio description in Quebec, Belgium, and France from intermediality, film studies, and users' perspectives. She is a French freelance captionist and has many years of experience in teaching. She has taught several courses at Toronto Metropolitan University; at The Chang School, she co-teaches Audio Description.
Requisites
Prerequisite: CDIM 100