CDEL 200
-
PORTFOLIO
9044381
Course Description
New for Fall 2021
Fully online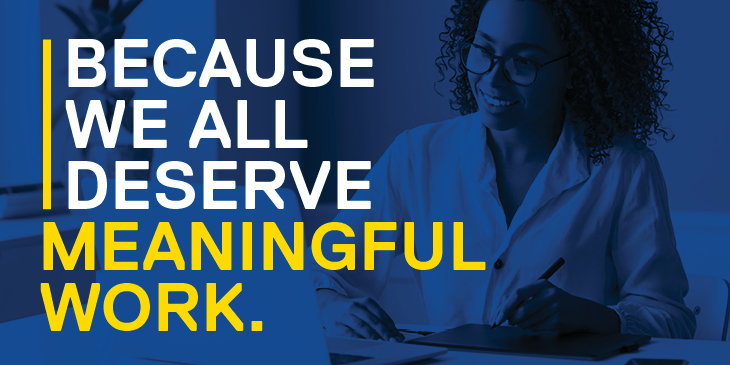 Not ready to enrol but want to learn more?
Fill out this form and a representative from The Chang School will contact you.
Walking into a job interview is stressful enough – and with the added pressure of having to answer the standard "tell me about yourself" question in a way that will make you stand out from the crowd, it can feel completely overwhelming. That's why we developed PORTFOLIO, a fully online course that will help you express and showcase your personal brand to your future employer.
On completion of this six-week course, you'll be able to articulate your unique value and skill set with confidence and create powerful visual artifacts to help tell your story.
This course will help you show and tell employers:
Who you are
What you know
How you can add value in a way that no one else can!
With six 90-minute synchronous classes, peer feedback, a one-on-one coaching session with the instructor, and tutorials for using visual crafting tools like Canva, PORTFOLIO is designed to help you develop the communication and design skills needed to drive a successful networking conversation or job interview. Learn how to leverage your personal experience – as well as the tangible skills you'll gain through this one-of-a-kind program – into finding, and winning, that dream job.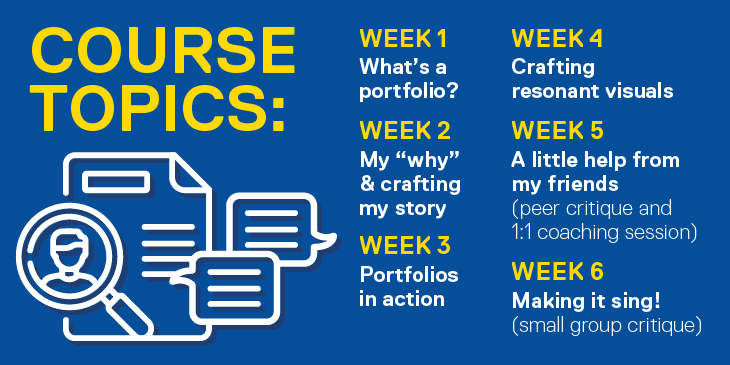 Course structure: The course uses a learn/practice/reflect model.
Learning outcomes:
Examine the different types of portfolios and ways to use portfolios as a conversation tool across sectors/industries.
Apply basic design literacy skills (typography, text hierarchy, layout, image use and treatment, colour choices, drawing/illustration) to enhance the visual design of your portfolio.
Use constructive feedback to improve the value of your portfolio.
Leverage the portfolio as a tool to connect your story to other people's (organizations, clients) needs in order to create value.
Testimonials
Michael Bassoon, PORTFOLIO student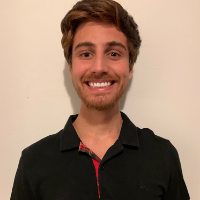 Prior to PORTFOLIO, I was in the process of changing careers and thought that the course would be useful in the job application process. This course not only provided me with increased personal confidence and job awareness, but it also gave me a useful employment tool that I can actively use in my job hunt.
The instructor was amazing, not only did they provide the group with an overwhelming amount of support, but they also ensured that everyone felt included and valued. The individual meetings with the instructor were also helpful – they helped build my confidence and allowed me to identify certain skills and experiences that may be valuable in the recruitment process.
The course taught me that everyone has a unique story and the ability to identify and put the story on paper can create ample opportunities in the future."
Robert Valela, PORTFOLIO student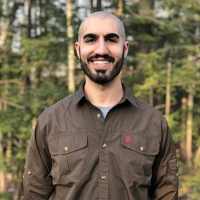 "Whether you have a background in art, business, technology, science, or anything else, learning how to portray yourself (i.e. experience, education, and personality) in a visually engaging manner is useful when looking to improve your communication styles and methods.
The course was very creative and inspiring; it challenged students to think about how they would like to both visually and narratively portray themselves while building a creative skillset. My favourite part of the course was obtaining feedback from the course instructor and students regarding my portfolio. I learned that your work will get better if you acquire feedback from others and incorporate that feedback into your work."