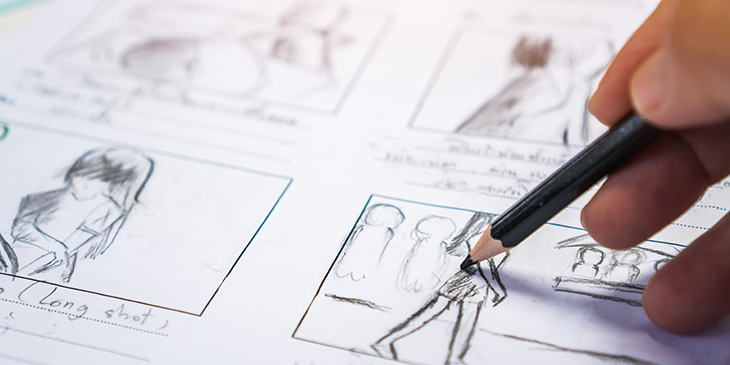 Want to find out more about the Certificate in Design for Arts and Entertainment? Express interest to connect with this program and receive updates.
Prepare for a career in scenography and learn to design for motion pictures, live entertainment, and cultural events.
This certificate program will help you develop the skills needed to make set, prop, and costume design proposals.
Upon successful completion, we will direct you to paid apprenticeships in Toronto's vibrant entertainment sector through a policy of ongoing mentorship, including any additional professional development you may need.
This program offers the following benefits:
Enrol right away – open admissions with no application required
Take Toronto Metropolitan degree-credit courses
Prepare for recognition by leading professional associations (additional training required)
Apply for merit-based awards
What Will You Learn?
We prepare you with the cultural knowledge and technical skills expected of emerging scenographers in a variety of specialties. These specialties include production design, art direction, set design, costume design, and events planning.
Learn about:
the language of design
the history of scenography
script analysis
site and venue analysis
drafting and model-making
set and costume proposals
rendering and storyboarding skills
budget projections, scheduling, and art department management
the Internal Responsibility System, the welcoming workplace, and safe set practice
gaining practical experience on Toronto Metropolitan University student films
Who Should Take This Certificate?
Would you like to create the material culture for live performances, films, and television series?
Are you already an emerging scenographer, wishing to enrich your skill set? Or are you an artist, architect, or designer planning a lateral career move?
The Certificate in Design for Arts and Entertainment is for you!
Who Teaches the Courses?
Our instructors are scenographers with design credits in theatre, film, television, commercials, and special events.
Page
Industry and Careers
Completing this program may lead to the following opportunities:
Trainee Assistant Art Director in the Directors Guild of Canada (DGC), with advancement leading to Art Director and Production Designer
Pathway toward acceptance to the Associated Designers of Canada (ADC) (Theatre), requiring additional training, as an assistant set designer or assistant costume designer
Non-unionized set design, costume design, art direction, and production design
Events planning, fashion shows, marketing, and set dressing
Providing methodologies in constructed realities to directorial photographers
Certificate Requirements
5 required courses
2 electives
Cumulative grade point average (GPA) of 1.67+
Page
Recommended Course Sequence
We can help you customize the course sequence depending on your start date, financial considerations, part-time or full-time employment, and previous experience.
Contact Valerie Kaelin, Academic Coordinator, at vkaelin@ryerson.ca for help in designing your course sequence.
If you are currently employed, be sure to make advance arrangements with your employer to release you from work with adequate travel time for prompt attendance. This certificate program will require your regular attendance, and you will have to meet homework deadlines.
We recommend you take courses in the following order:
Mid Terms: CFPN 501, electives (2 selections)
Final Term: CFPN 601
To fast-track certificate completion, many students register for CDID 150 in the Spring/Summer term. Some of the electives are also available then. Reducing employment hours to part-time status during this intensive term is recommended to maximize certificate success.
Why Register for the Certificate?
The classroom provides a safe, yet accelerated environment in which to acquire the hard skills to make your professional dreams come true. Haphazard preparation with nothing but eagerness on your side too often leads to burnout rather than a long-term, fulfilling career in entertainment.
Our instructors care deeply about your formation and introducing you to viable mentors once your core skills have been acquired.
Admission Criteria
Recommended:
Ontario Secondary School Diploma (OSSD) or equivalent

With 6 Grade 12 U or M credits (including English)
With a minimum average of 60 percent
OR
Mature student status with relevant professional experience
Note: If you have no previous drawing experience, you must successfully complete CDID 803 - Drawing Fundamentals.
Awards and Financial Aid
Page
Frequently Asked Questions
Will I find employment after completing the certificate?
While this is largely a freelance work environment, Toronto is a world centre for the entertainment industry. A lively network of unions, guilds, media outlets, and festivals can create a sustainable income.
What are the entry-level expectations of an art department?
Wild creativity is serviceable only if accompanied by a crisp set of hard skills, a strong work ethic, and civility. The way to get noticed is to focus on developing these skills. We are here to help you.
Are international students eligible for the program?
Yes. We have had students travel from Australia, the United Kingdom, China, Iran, and Italy come to study with us.
Please note that international students are required to pay international fees. Visit International Students for details.
What is the homework load?
You can expect to spend between 10 to 25 hours a week per course, depending on the syllabus.
Testimonials
"The Certificate in Design for Arts and Entertainment consistently nurtures, trains, and graduates exemplary new design talents, while also providing a wonderful launch pad for them to make their way into Toronto's professional film industry. Over the past 10 years or so, I have personally hired at least 6 or 7 graduates of the Certificate in Design for Arts and Entertainment to work as assistants in my Art Department, and in some cases, on repeat occasions and in increasingly demanding capacities.
I am consistently impressed with the proven outcomes in terms of the students' knowledge, skill base, and overall attitude, which is well-rounded, focused, disciplined, and holds refreshing respect for work/life experience and process. Hallelujah!"
Marian Wihak
Production Designer
---
"The Certificate in Design for Arts and Entertainment has been pivotal to my success in the working world. I am now successfully working in the DGC, representing professionals working on shows such as Star Trek: Discovery, Murdoch Mysteries, Altered Carbon, Kim's Convenience, and Suits.
I strongly encourage students interested in production design for film to take the certificate program. Valérie teaches her students … portfolio requirements, [with] insider knowledge and contacts to succeed in the industry."
Tess Sorochan-Ruland, TAAD, DGC
Course Delivery Schedule
Please note that this schedule is subject to change. Check individual course listings for scheduling information.
| Required Courses | Fall | Winter | Spring/Summer |
| --- | --- | --- | --- |
| | Wednesday | Wednesday | Monday & Wednesday |
| | Tuesday | | |
| | Wednesday | | |
| | | Wednesday | |
| | | Thursday | |
| Elective Courses | Fall | Winter | Spring/Summer |
| | Tuesday, Wednesday, or Thursday | Tuesday, Wednesday, or Thursday | Monday & Wednesday; or Tuesday & Thursday |
| | Tuesday | | Monday & Wednesday |
| | | Wednesday | |
| | Wednesday | | Monday & Wednesday |
| | | | Monday & Wednesday |
| | Wednesday | | |
| | Tuesday | | Monday & Wednesday |
| | Wednesday | Monday | Monday & Wednesday |
| | | Monday | Monday & Wednesday |
| | | Monday or Tuesday | Monday & Wednesday |
Contact Us
Questions? Contact Valerie Kaelin, Academic Coordinator.
Phone: 416-979-5000, ext. 6862
Email: vkaelin@ryerson.ca