CYMC 850
-
Querying Relational Databases Using MySQL
19396240
Course Description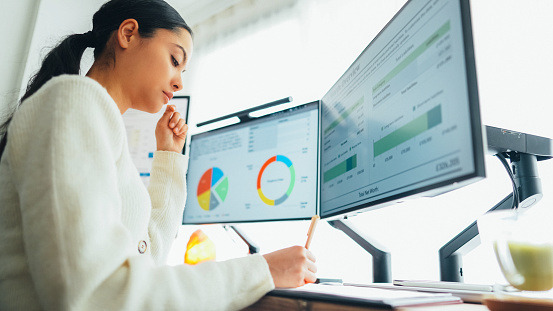 Introductory offer! Enrol today for just $99, for a limited time only. (Regular price: $349)
You've got data – a lot of it. But how do you turn that data into insights about your clients and business? Misunderstood or improperly queried datasets can potentially result in poor decisions.
In this Curv Microcredential, you will demonstrate your ability to query a relational database using Structured Query Language (SQL), one of the most in-demand competencies in any data-related profession. You will discover how to create and execute a proper SQL query, turning raw data into insights about your world.
Stay one step ahead with a Curv Microcredential that will give you confidence in knowing you have certified expertise in querying relational databases using MySQL.
What to Expect
This Curv Microcredential demonstrates your proficiency in employing MySQL to retrieve data from a relational database. When you sign up, we provide refresher resources and exercises that you can do on your own to practice your skills. Then, you will be asked to complete an assessment to demonstrate your competency. Your work will be reviewed by an expert and you will receive a personalized result. If you meet our standard for expertise, you will receive a Toronto Metropolitan University Curv Microcredential from The Chang School that proves you can:
Design and execute a MySQL query
Comment and justify use of selected keywords and clauses
Display proper order of execution
Who Should Take This Program?
This program is suitable for anyone who is:
Looking to prove their capability in an essential skill area for data analysts
A practicing or self-taught data analyst
A new grad looking to boost their resumé with validation of a specific skill
This credential demonstrates your commitment to mastering the building blocks of data analysis to better yourself, your workplace, and your community.
Frequently Asked Questions
What are the requirements for this microcredential?
You should have foundational knowledge and skills using MySQL to perform queries in relational databases before enrolling. If you can answer 'yes' to all of the following questions, then you may be ready to enrol:
Are you familiar with these key terms: relational database, MySQL, and logical expressions?
Do you have experience analyzing relational databases (i.e., have you worked as a data analyst, database designer, etc.)?
Do you understand the execution order of a MySQL query block?
Do you feel confident identifying required entities and attributes in a query?
Have you integrated a conditional or logical expression into a MySQL query before?
Have you reliably demonstrated the capacity to design a MySQL query and retrieve a correct output using an existing relational database?
Have you been able to design one query as part of another or summarize certain information using aggregate functions?
What do I need to do for the assessment?
For the assessment, you will be given the logical model of an existing database and five questions about this database. You will be asked to write the answer to each question as a MySQL query statement.
Your responses will be assessed in three areas (implementation, quality, and understanding). In order to achieve mastery and receive a credential, you must receive a minimum number of points in each area. Upon enrolling for the microcredential, you will have access to a detailed rubric that outlines what the assessors will look for and how you will be assessed.
What are the technological requirements for the assessment?
You will need a:
Stable Internet connection to download third-party libraries, access cloud resources, or upload files during your assessment
Modern, up-to-date web browser (e.g. Google Chrome, Mozilla Firefox, Microsoft Edge, Apple Safari, or Opera)
Compatible and up-to-date operating system, such as Windows, macOS, or Linux, to support the tools and libraries you'll be using
Dual-core CPU or better for smooth performance, at least 8 GB RAM for medium-scale data processing, adequate space on an SSD or HDD for the operating system, and integrated graphics or basic GPU
Mobile phone* capable of receiving an SMS text message
*Why do I need a mobile phone? To log in to the my.torontomu.ca portal and access the microcredential environment (D2L Brightspace), you will need a mobile device for two-factor authentication.
How much time do I have to complete the assessment after enrolling?
Your microcredential will last two weeks. In the first week, you will have access to the microcredential environment (D2L Brightspace) to explore the supporting materials and practice activities that prepare you for the assessment. The supporting materials are self-paced and can take approximately two to seven hours to complete, depending on your prior knowledge and experience.
In the second week, you will gain access to the assessment. You will be able to open the assessment window at any time within that second week. Depending on the microcredential, the assessment window may be time limited (for example, three hours).
What are my support options?
Upon enrolling, you will have access to refresher resources and exercises. Your expert assessor will be available through the D2L Support Forum for any questions prior to the assessment. If you have any questions or experience any technical issues, you may contact Toronto Metropolitan University's Computing and Communications Services (CCS) by email or phone.
What happens once I complete the assessment?
A week after you complete the assessment, you will receive your result from an expert assessor.
If you are able to meet the criteria and pass the assessment, you will receive a shareable Toronto Metropolitan University digital credential. This credential can be shared on your LinkedIn profile, personal website, or anywhere you want to display your achievements.
If you are not able to meet the criteria and do not pass the assessment, you can re-enrol and try again when the next offering of this microcredential is available. Be sure to review your feedback and ensure that you have filled any gaps in knowledge or skill before registering for a future offering of this microcredential.
If you are looking for a deeper learning experience, The Chang School course, CIND 110 - Data Organization For Data Analysts, covers MySQL skill development and may be of interest.