Fully online
Industry and Careers
This certificate can lead to career paths in various roles. Here are some examples:
Analytics manager
Clinical informatics analyst
Clinical informatics specialist
Decision support analyst
Health data analyst
Health informatics analyst
Medical informatics analyst
Quality improvement specialist
Who Should Take This Certificate?
Healthcare professionals who wish to formalize and expand their knowledge of industry-specific uses of information technology in order to progress in their career
Healthcare professionals that are seeking the academic training to meet the eligibility requirements to sit for the CPHIMS-CA Certification
IT professionals who are interested in applying their technical skills within the health sector
Internationally educated professionals with a background in IT or the health sector who seek a better understanding of healthcare and health information management in the Canadian context
What Will You Learn?
After completing this certificate, you will be able to do the following:
Understand how information technology is applied in healthcare services, including electronic health records (EHR), eHealth, healthcare software applications, and healthcare data
Apply fundamentals of human interaction with computers including mental models, multimedia user interface, network-based interactions, and visual design principles
Demonstrate familiarity with healthcare coding terminologies, interoperability between diverse and distributed systems, and electronic data interchange standards
Compare and contrast the various health systems operating within Canada and models for healthcare funding and planning
Understand ethical issues as related to health information management
Evaluate aspects of care provision, including provider-client relationships and integrated client-centred care
Are you looking for a career in healthcare that merges your interest in business, operations, and people management? Then you should check out our Certificate in Health Services Management.
Certificate Requirements
4 required courses
3 electives*
Cumulative grade point average (GPA) of 1.67+
*If you do not have a background in health information, you should complete CHIM 303.
You should select CMHR 405 if you wish to pursue CMHR 650, as CHSM 437 does not provide a prerequisite for CMHR 650.
Page
Admission Criteria
Required:
Ontario Secondary School Diploma (OSSD) or equivalent

With 6 Grade 12 U or M credits
OR
Mature student status with relevant work experience

With minimum of 1 year's related professional experience in the health or information technology sectors
Admission Application
You must complete a pre-approval application and receive an approval code before registering in your certificate (it's best to have your registration in place before you enrol in for your first course).
Already a TMU student or have a Google email account? Complete our Certificate Approval Code Request form and attach your required documentation.
Not yet a TMU student or don't have a Google email account? Complete our Certificate Approval Code Request (Non-Google Users) form and submit your required documentation.
Page
Professional Designations and Accreditation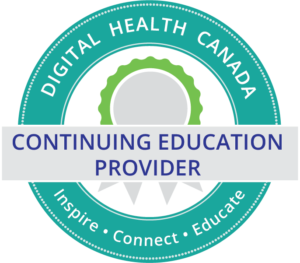 The Chang School is an approved continuing education provider by Digital Health Canada.
The Certified Professional in Healthcare Information and Management Systems – Canada (CPHIMS-CA) credential signifies that a health informatics professional has the skills, knowledge, and abilities to perform safely and effectively in a broad range of practice settings. Certified individuals must renew their credential by earning 60 Continuing Education hours, every three years, from an approved education provider, such as The Chang School.
To find out more about earning Continuing Education hours towards the renewal of your CPHIMS-CA credential, contact Pria Nippak, Academic Coordinator: pnippak@torontomu.ca
Awards and Financial Aid
Page
Page
Frequently Asked Questions
Can I take a Health Informatics course before I register in the certificate?
Yes. If you are unsure about committing to the full certificate program, we recommend that your start with the three-course Course Series in Health Informatics, which does not require an application. Upon successful completion of the three courses, you may receive a Professional Development Award.
If you then decide to complete the certificate, please submit the pre-approval form and, once accepted, you may enrol in the certificate and transfer in these three courses.
What electives should I take?
Choose the three electives that will best prepare you for success in the interdisciplinary field of health informatics. Your elective courses should complement your existing knowledge and skill-set while also supporting your future career goals.
For personalized recommendations, you are encouraged to consult with the Academic Coordinator, Pria Nippak (pnippak@torontomu.ca) about the courses that best complement your competencies.
Sample recommendations for elective choice, based on your needs and goals, are below:
You are a healthcare professional who wants to better understand IT infrastructure, systems analysis and design: CITM 207, CITM 301, CITM 820
You are an IT professional who wants a better understanding of healthcare systems and managing health information: CHIM 301, CHSM 306
You are not familiar with current ICD (International Statistical Classification of Diseases and Related Health Problems) standard classification systems and need practical coding skills as related to ICD: CHIM 303
You would benefit from specialized knowledge in the tools and techniques of project management: CTEC 210
You are interested in human resources management aspects of health organizations: CHSM 437, CMHR 405, CMHR 640, CMHR 650
You are interested in information access and privacy issues as applied to health records: CLAW 401, CLAW 402
You want a better understanding of the political, economic and social complexities of healthcare systems and current issues in Canadian health information management: CHIM 404
How long will it take to complete the certificate?
Most students complete this certificate in three years. Toronto Metropolitan University requires that you complete the seven-course certificate within five years of your admission to the program.
If you are able to take two courses per term, you can complete the certificate within two years. The following tables provide sample pathways to completion for professionals with either a healthcare or IT background.
Healthcare Background (assuming no IT training)
Fall

Winter

Spring/Summer

Fall

Winter

Required

CHIM 305
CHSM 301

CHSM 305

CHIM 306

Elective

CITM 301

Could take an elective to reduce load to one course in Fall or Winter

CITM elective or
CLAW 401

CITM elective or
other
IT Background (assuming minimum equivalent to CITM 100/102 and CITM 305)
Fall

Winter

Spring/Summer

Fall

Winter

Required

CHIM 305
CHSM 301

CHIM 306

CHSM 305

Elective

CHIM 300


Take an elective to reduce load to one course in Fall or Winter

CHSM 306 or
CLAW elective or
CHIM 301
*If you registered prior to Fall 2020, you are required to complete the curriculum as outlined here.
*If you registered prior to Fall 2020, and have not completed 50% of the certificate, please contact ce@torontomu.ca to review your options available for Certificate completion.
Contact Us
Page